In Berlin with Pittori Uniti per la Pittura
12/8/2018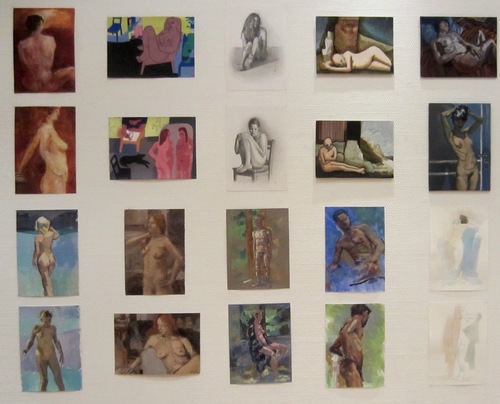 I recently particpated in the exhibition NUDES at Galerie Uno in Berlin. I exhibited two gouache paintings on toned paper...a female nude and a male nude. The exhibiton will travel to Rome and possibly other venues.
---
NUDES in Berlin
11/14/2018
I will be participating in an exhibition of "Nudes" this December in Berlin. An international gtoup of artists -Pittori Uniti per la Pittura- will show works on paper on this theme. The show will be on view at

Gallery UNO Projektraum.
---
Publication in "Studio Visit" Magazine
10/26/2018
My painting "Models in the Studio" appears in the current issue of Studio Visit (Vol.41). This publication features the work of many contemporary artists.

The work depicts two figures in my studio in LIC. The models are Carl Sherman, a gifted writer, and Peach Tao, a talented illustrator. Both have often posed for me and have always been a wonderful source of inspiration for me. The male figure is lost in revery and the female engrossed in her reading. They exist in the dream world of the studio. Their relationship is distant...each is immersed in their own thoughts. There is an expressive contrast between the depiction of experience and youth. The technique of combining close observation with an open handling of paint is in harmony with the mysterious content.